Read about Bosch's newest endeavor with Nokia in its private 5G campus and its flagship Industry 4.0.
The Stuttgart-Feuerbach site is the company's flagship Industry 4.0 plant.
Source: everythingrf.com
5G, better known as the 5th generation of mobile communications standard, focuses not only on the digital connectivity of people, but also on communications between
sensors, devices, and machines, making it the very first communications standard offering connectivity for IoT. With peak data speeds hitting 20 Gbps, 5G is up to 20 times faster than 4G! High data transmission rates, extremely low latency of one millisecond, and reliability very close to that of wired data transfers give 5G its well-deserved hype.
5G is an essential prerequisite for the smart factory of the future. Capgemini has found that 65% of industrial companies worldwide plan to deploy 5G within the first two years of availability. Bosch, a German IoT company, is developing solutions to meet this demand. Recently, Bosch together with Nokia set up its first 5G Campus network at Stuttgart-Feuerbach in Germany, where Bosch defined the use cases, while Nokia provided 5G components. The company's interests in 5G are around driving business performance: to help connect and animate its own hyper-efficient 'factories of the future', and drive sales of its new 5G industrial componentry.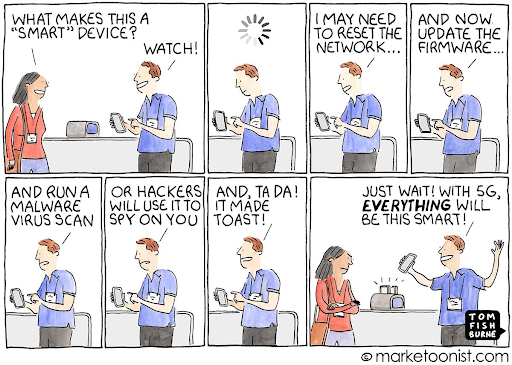 We could go on to make even the most absurd things smart, but the 3-4 step process of setting things up will never stop being a pain in the ass! Cheers to the next generation of automation and privacy breaches. Hurray!